Veg Fest

2018
                                                                                               Exploring Vegan Living
                                              Join MAC at our 14th Annual Veg Fest June 2, 2018!  11am to 3pm
                                                                                                                East End Community School ~ Portland, Maine
Every June animal and vegetable lovers gather in Portland for this special one-day event.  In addition to an intriguing lineup of speakers, our Veg Fest features vegan food, local exhibitors & vendors, silent auction and a raffle. 
A lunch of Sicilian style pizza, flat bread thin crust pizza and burritos will be available for purchase.
Admittance is FREE and all events are FREE!
2018 Guest Speakers:
                                                                                                                                        lauren Ornelas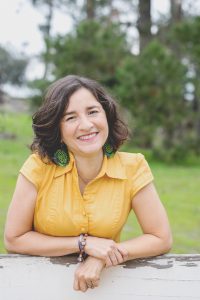 "Food Justice: How Your Food Choices Can Change the World"    11:15 am      
lauren Ornelas is the founder/director of Food Empowerment Project (F.E.P.), a vegan food justice nonprofit seeking to create a more just world by helping consumers recognize the power of their food choices. F.E.P. works in solidarity with farm workers, advocates for chocolate not sourced from the worst forms of child labor, and focuses on access to healthy foods in communities of color and low-income communities. lauren has been active in the animal rights movement for more than 30 years. She is the former executive director of Viva!USA, a national nonprofit vegan advocacy organization that Viva!UK asked her to start in 1999 and for which she investigated factory farms and ran consumer campaigns. In cooperation with activists across the country, she persuaded Trader Joe's to stop selling all duck meat and achieved corporate changes within Whole Foods Market, Pier 1 Imports, and others, and she helped halt the construction of an industrial dairy operation in California. She was also the spark that got the founder of Whole Foods Market to become a vegan. In addition, lauren served as campaign director with the Silicon Valley Toxics Coalition for six years. Watch her TEDx talk on "The Power of Our Food Choices." Learn more about F.E.P.'s work at foodispower.org and veganmexicanfood.com.
                                                                                                                       ~~~~
                                                                                                        Victoria Moran
                                                                                   
                                                              "Assisting Isaiah: Living & Eating for a Little Heaven on Earth" 1:00 pm
Victoria Moran is a vegan of 34 years, an obesity survivor, and the author of books including the iconic Main Street Vegan, as well as The Love-Powered Diet and – brand new – The Main Street Vegan Academy Cookbook, coauthored with JL Fields. A two-time Oprah guest, Victoria has appeared on the covers of Barefoot Vegan and La Fashionista Compassionista magazines, and served as "Peta's Sexiest Vegan Over 50" for 2016/17. She hosts the weekly Main Street Vegan podcast and directs Main Street Vegan Academy, the exciting, 6-day intensive course in New York City that trains and certifies Vegan Lifestyle Coaches and Educators. https://mainstreetvegan.net
                                                                                   ~~~~
                                                                                                 Pattrice Jones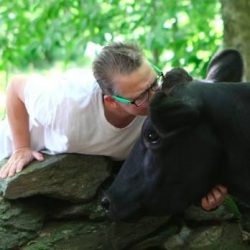 "What I've Learned from Animals at VINE Sanctuary" 2:00 pm
Pattrice Jones is a cofounder of VINE Sanctuary, an LGBTQ-led refuge for farmed animals that works within an ecofeminist analysis of animal exploitation. An activist since the 1970s and the author of Aftershock: Confronting Trauma in a Violent World (2007) and The Oxen at the Intersection (2014), Jones has taught college and university courses on social change.
                                                                                                          ~~~~  
 Exhibitors:  
                                                                                                                                                                                                                                                                                                                                                                                                                                                                                                                        
 Donors:
                                                  
Silent Auction:
Full scholarship to the online Plant-Based Certificate Program from T. Colin Campbell Center for Nutrition Studies in partnership with eCornell valued at $1,260.
http://nutritionstudies.org/pbn-certificate/
And much more!