SAVE THE WHALES!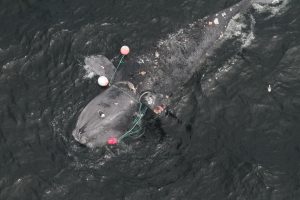 A new federal bill has been proposed by conservationists to provide additional resources for saving the right whale. It is H.R. 1568 Scientific Assistance for Very Endangered (SAVE) North Atlantic Right Whales Act of 2019. The bill would support right whale recovery by providing ten years of sustained federal funding for collaborative projects between states, non-governmental organizations, researchers, and the fishing and shipping industries to help save the right whales.
MAC has stamped postcards provided by the International Fund for Animal Welfare. These attractive postcards urge passage of the SAVE North Atlantic Right Whales Act of 2019. All you need to do is sign your name and address them to Maine's two Representatives. There are plenty of post cards to go around. Host a party or just commit to getting 10 friends to sign a postcard. (Let us know if you would like some postcards! Email us at mac@maineanimalcoalition.org  )
You could also call Maine's Rep. Pingree and Rep. Golden and ask them to support the SAVE Right Whales Act.
Membership Matters!
Please, Plant a Seed of Compassion