Look For The Bunny 
Are your health and beauty products certified cruelty free? Even today, many companies still conduct animal testing. Fortunately, there is an easy way to tell if a product is cruelty free. Just look for the bunny! If one of these labels is on your product, then you'll know: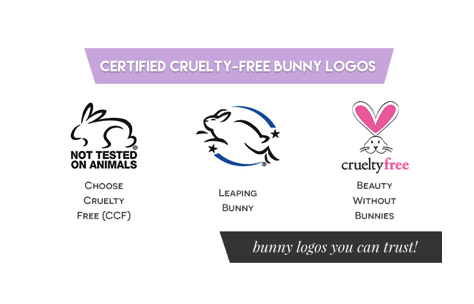 In order to carry a certified cruelty-free label, a company must verify that they do not conduct or commission any animal testing on their product's ingredients or the finished product. Of the three programs, Leaping Bunny is the only certifying body who audits companies. PETA also has their own cruelty-free bunny logo, which requires a company to undergo certification involving a questionnaire and written statement of assurance. Lastly, the Not Tested on Animals Rabbit logo is provided by Choose Cruelty Free (CCF), a non-profit organization based in Australia. CCF requires companies to sign a legally binding contract to guarantee their written statements are true. Consumers can make up their own minds as to which certifications are trustworthy.
In 2018 it is easy to find a cruelty-free version of any product you need, whether it be soap, diapers, cosmetics, laundry detergent, or sunscreen. A consumer can find a cruelty free product just by searching the term "cruelty free" along with the product they are looking for, and will end up with numerous results. Today, there is no need to support animal testing in order to look and feel your best. While some cruelty-free products do cost a little more than their conventional counterparts, it is also possible to find inexpensive options if you search around. You can also download apps on your smartphone that make it easy to identify products that are certified cruelty free.
The more demand consumers create for cruelty-free products, the more companies will take notice and consider how they manufacture their goods. And if you're looking for a way to help animals, buying cruelty-free health and beauty products is a great way to start!
Check out free app  Cruelty-Free  from Leaping Bunny Program
Written by Denise Zahares, Maine Animal Coalition secretary
Look for the Bunny by Denise Zahares